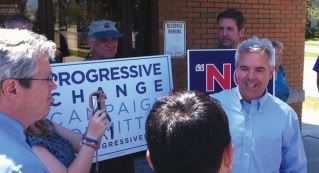 Rob Zerban gives Paul Ryan run for his money --
Politico
headline.
Two respected national pollsters, based in Madison, agree:
"I'm not saying it's a likely upset, but you can say that it's not a safe seat and that Ryan is going to be put to the test in a way that he hasn't before," said Paul Maslin, a prominent Wisconsin-based pollster who is working for Zerban, a Kenosha County supervisor.
Maslin works for Zerban. Nathan Henry, of The Mellman Group, doesn't.
"There's no doubt that Paul Ryan is a formidable candidate. In a normal year, it would be a tough race. But we're in a different environment now," said Nathan Henry, a Madison-based Democratic pollster. "I think you'll see Paul Ryan in a vulnerable position for the first time in a long time."
Republicans, meanwhile, claim there is no race -- a dangerous position even for spinmeisters to take, lest it lull Ryan's base to sleep:
Republicans scoff at the idea that Ryan — who some supporters and party leaders have encouraged to run for Senate or president — could lose his seat to an opponent who has never run for federal office, let alone challenged one of the most prominent figures in the GOP.

"What race?" said Bill McCoshen, a veteran Wisconsin-based GOP consultant. "Paul Ryan doesn't have a real race."

"Every year, the guy wins in a landslide," said Wisconsin Republican Party Executive Director Stephan Thompson
Well, every year
so far
(actually every other year; terms are two years). But he hasn't had a serious challenge since he won the seat in 1998. This year could be different, whether the Rs want to admit it or not. Ryan's plan to end Medicare as we know it and replace it with a voucher system that would cost seniors more money out of their pockets than many can afford has changed the political landscape, nationally and in Wisconsin's 1st District.
Read more
here.