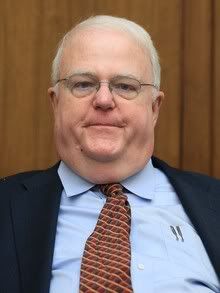 Wow.
Confronted by a 54-year-old constituent at a town meeting in his district on Sunday, all Rep. F. James Sensenbrenner -- the extreme conservative who represents one of the safest districts in the country, which happens to border Paul Ryan's -- wouldn't defend Ryan's Medicare plan.
According to the
Brookfiield Patch,
the best Sensenbrenner could come up with was:
"I'm not here to say he's (Ryan) right or he's wrong, but at least he's got a plan."
Not exactly a vote of confidence, even though Sensebrenner, like almost every other Republican in the House, voted for Ryan's budget plan which included the Medicare changes.
Sensenbrenner was questioned by 54-year-old Paul Race of Menomonee Falls, who would lose the guaranteed coverage offered by Medicare under Ryan's plan and instead be required to purchase private insurance with a government voucher -- for considerably less than the government spends on Medicare.
"If it's good enough for the people 54 and younger ... then I think it's good enough for people 55 and older," said Race, a former Marine and a teacher of 25 years.
Huffington Post
and
FiredogLake
have more.