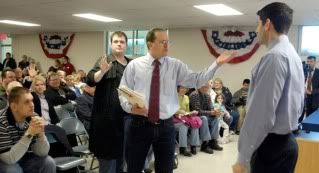 Paul Ryan isn't holding any town hall meetings during the August Congressional recess -- who wants to face more crowds of angry constituents and defend his plan to end Medicare as we know it and replace it with a sort of voucher system? That didn't go so well in April, as you can see in the Associated Press photo above. Politico reports:
Busy, busy, busy.
Seifert said Ryan is also "holding business tours and office hours throughout the recess." He said the decision not to hold public town hall events had nothing to do with criticism the House Budget chairman took from constituents in April.
Fifteen dollars is the price tag to attend a Ryan luncheon speech to the Whitnall Park Rotary Club in West Allis, which had been scheduled for July but has been moved back to Sept. 6. You can still register
here
until Aug. 28.
That will get you in the same room with Ryan, but there is no guarantee you'll get to ask him a question.
Politico
has more.