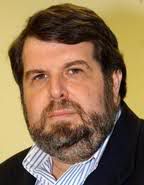 Democratic pollster Mark Mellman (pictured) predicts that Paul Ryan's budget will be "an albatross around the necks of Republicans across the country."
"In almost every poll we do, in almost every state, in almost every congressional district where we poll, people's support for the Ryan plan is one of the most compelling reasons to vote against them," Mellman said.
Mellman added that the proposed changes to Medicare would be the most problematic for Republicans.
Mellman, a prominent national pollster, spoke at a WisPolitics.com luncheon in Madison.
Read more here.