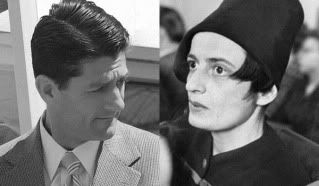 The couple in happier times
Paul Ryan not only claims his love affair with Ayn Rand is over. He claims he never had one.
"I reject her philosophy," he says, and
National Review Online
laps it up, saying Ryan's love for Rand is "an urban legend."
But Think Progress does a little research and finds:
The New Republic wrote: "The reason I got involved in public service, by and large, if I had to credit one thinker, one person, it would be Ayn Rand," Ryan said at a D.C. gathering four years ago honoring the author of "Atlas Shrugged" and "The Fountainhead."
Ryan also noted in a 2003 interview with the Weekly Standard, "I give out 'Atlas Shrugged' as Christmas presents, and I make all my interns read it. Well… I try to make my interns read it."
Think Progress has more.