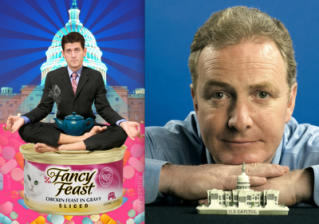 Down With Tyranny graphic
Rock Netroots blog :
Another Unholy Alliance With Paul Ryan. When Will Some Democrats Learn?
This time it's Rep. Chris Van Hollen (D-Md.) teaming up with Ryan on a proposed line item veto.
In the past, even Russ Feingold has taken the bait and stood with Ryan on the same issue.
Rock Netroots, based in Janesville, hometown of both Ryan and Feingold, thinks Feingold got snookered, too.
More here.
Down With Tyranny blog also blasts Van Hollen, but has some kind words for Rob Zerban, Ryan's opponent, who opposes the line item veto. (Among other problems, the Supreme Court found it was unconstitutional in 1998.)
If you want to make believe the Republicans in Congress aren't fighting a vicious and concerted class war against working families on behalf of Big Business, Wall Street and the 1%, you can work with them towards bipartisan solutions. But then you'd have to be an idiot since, through words and deeds, the Republicans in Congress have shown, indisputably shown, that "bipartisan" always means the same thing for them: support the dogmatic right-wing approach/strategy. Former DCCC chair Chris Van Hollen ought to know better; maybe he does.
.
Read the rest of DWT's commentary
here.