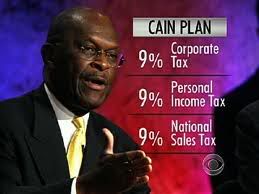 The Chief, an Oshkosh blogger who deserves a wider readership, asks:
If Paul Ryan takes Herman Cain's 9-9-9 Plan Seriously, should we keep taking Paul Ryan Seriously?
It's entirely possibly that there has never been a more ridiculed and completely dismissed domestic policy proposal than Herman Cain's 9-9-9 Tax Plan.
Democrats
hate it.
Conservatives
hate it. Even
Grover Norquist
hates it.
Bruce Bartlett
says of the plan:
At a minimum, the Cain plan is a distributional monstrosity. The poor would pay more while the rich would have their taxes cut, with no guarantee that economic growth will increase and good reason to believe that the

budget deficit will increase

.

Even allowing for the poorly thought through promises routinely made on the campaign trail, Mr. Cain's tax plan stands out as exceptionally ill conceived.
Even
conservatives
are quick to point out that the plan increases the tax burden on
the middle class:
But now that every ones living up to take a whack at Cain's policy pinata, who should come to the rescue but ...
Paul Ryan
?
House Budget Committee chairman Paul Ryan says he "loves" presidential candidate Herman Cain's signature "9-9-9″ tax plan.
Much more
here
and well worth a read.